Have you ever noticed one of the most valuable company aka Apple how the company feels responsible towards the environment by making its products? How much of the natural resources extracted every year? And how the company wanted to protect the environment and use of its resources?
Apple the company know for price skimming, products and also for Steve Jobs. It is the multinational technology company that designs, develops and sells electronic products, computer software, and online services.
"Apple is one of the big four companies followed by Google, Amazon, and Facebook."
How the company saves resources?
Apple uses most of the natural resources from the Old phones, laptops etc.. That is recovering the precious resources from old products, and use them again to build the new products.
So that Apple changed the traditional supply chain to closed-loop supply chain in 2017.
Closed-Loop Supply Chain
It is combination of traditional supply chain aka Forward logistics (i.e. Manufacture -> Wholesaler -> Retailer -> Customer) and similarly, Reverse Logistics (i.e. Customer ->Retailer ->Wholesaler -> Manufacture). That is, the company sell the device to the customer through various means and after device functionality is stopped, the customer can return or sell it to the company. In addition, the company can reuse for future devices. Where "closed loop" refers to the recover the value from unused products while minimizing the wastage of resources.
HOw apple uses Closed-loop supply Chain?
This where Apple uses the trade-in offer. Where the customer can trade-in their iPhones or other devices to the company in return you can get the apple gift card or refund or discount on exchange with new Devices.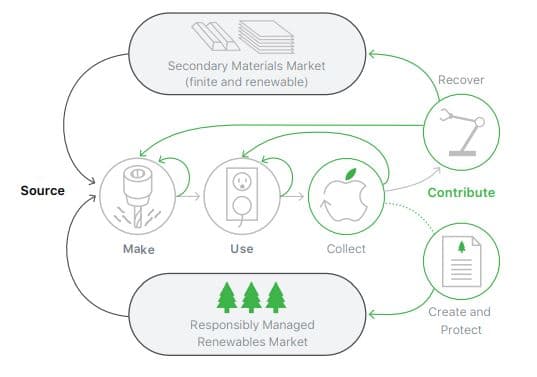 The four aspects of a closed-loop supply chain:
Source: Use recycled or renewable materials that are responsibly sourced.
Make efficiently: Design and manufacture products to minimize the use of materials.
Use for a long time: Design products to be durable, so they can have long lives.
Contribute: Restore market supply with an amount of recycled, reclaimed, or renewable material at least equal to the amount used to make the product.
Meet Daisy, Apple's ultimate recycling robot
Apple's Daisy is the newest disassembling robot, which is the most innovative and efficient way to reclaim its parts from the iPhone. Up to 200 iPhones are disassembled per hour, removing and sorting components. Daisy can recover minerals that traditional recycler can't and with higher quality.
For instance, Daisy can recover for every 100,000 iPhone devices:
Aluminum 1900 kg
Gold 0.97 kg
Silver 7.5 kg
Rare earth elements 11 kg
Tungsten 93 kg
Copper 710 kg
Palladium 0.10 kg
Tin 42 kg
Cobalt 770 kg
Tantalum 1.8 kg
This show that apple's Daisy is one of the finest robot for recycling. In addition to that Daisy was build by apple's R&D Department in 2016. However, Daisy will process end-of-life iPhone 5, iPhone 5s, iPhone SE, iPhone 6, iPhone 6 Plus, iPhone 6s, iPhone 6s Plus, iPhone 7, and iPhone 7 Plus devices that are returned to us by customers or via AppleCare.
What motivates the company towards Sustainability?
Apple is always want to less of natural resources and more of the recycled resources.
The Company is also making consumers to be part of recycled resources by returning or trade in the old devices of apple.
Apple is also innovating new technology not only for consumer products but also for recycling technologies (Daisy) and other environmental safeties.
Conclusion
Apple's: sustainable marketing by making new products is all about, what Apple is doing to save resources. Apple is not just recycling its product, they're also making costumer participation in sustainable marketing. The company is also making costumer making to think that there is also part of recycling the product for the environment. Apple is investing in R&D Department also for sustainability and environmental safeties. Every Apple user needs to use trade-in offer use the benefits and take part in saving the limited resources.
Please follow and like us: